Main content starts here, tab to start navigating
Slide 1 of 2
Slide 2 of 2
Menu
We are currently closed for in-house dining, but you can still place an order to be delivered to your home or business through Door Dash and UberEats. You can also order for curbside pick-up by using ChowNow or by calling 262-781-1110.
Please note that we are only offering the temporary, limited menu below at this time.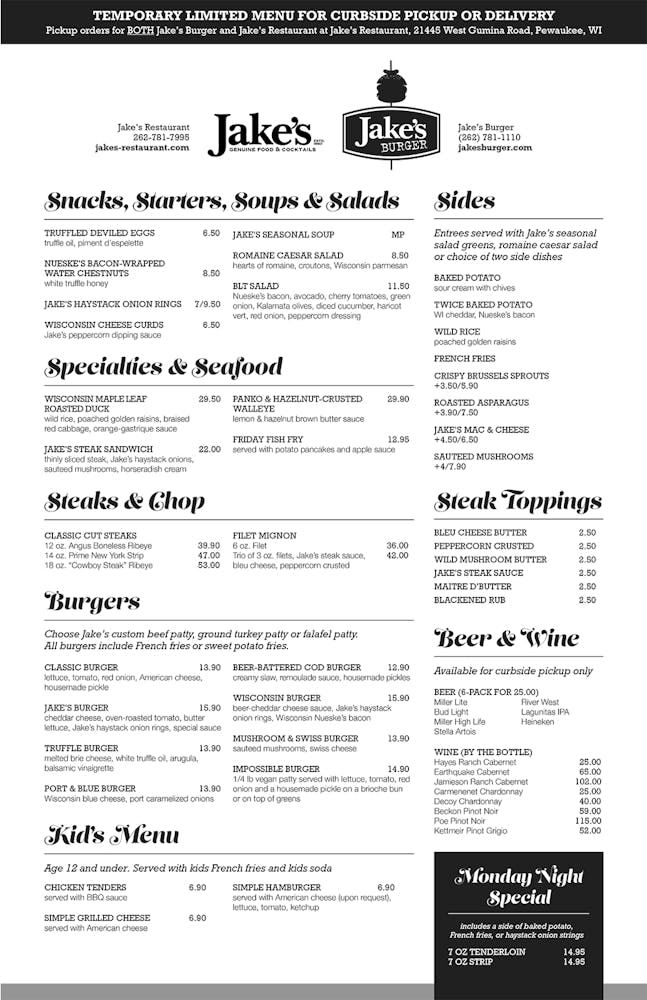 We hope to return to our full menu soon!
Snacks | Starters
Snack : Truffled Deviled Eggs

Truffle Oil | Piment d'Espelette

$6.50

Nueske's Bacon Wrapped Water Chestnuts

White Truffle Honey

$8.50

Jake's Haystack Onion Rings

$9.50

Roasted Bone Marrow

Parsley Salad | Shaved Shallots | Capers | Lemon Vinaigrette

$13.90

Jumbo Shrimp Cocktail

Classic Cocktail sauce | Lemon

$16

Jake's Seasonal Soup | MP

Caramelized French Onion Soup

Gruyere Cheese

$8

Romaine Caesar Salad

Hearts of Romaine | Croutons | Wisconsin Parmesan

$8.90

Baby Iceberg Wedge Salad

Baby Iceberg | Heirloom Tomatoes | Nueske's Bacon | Bleu Cheese

$11
Steaks & Chop
- Filets are prepared to one temperature -
45 Day Dry Aged Steak

18 oz. "Cowboy Steak" Ribeye $53

Filet Mignon

6 Oz. Filet $36

8 Oz. Filet $44

14 Oz. Bone-in Filet $52

Filet Mignon Trio

Oscar Style | Blue Cheese | Peppercorn Crusted (Trio filets are prepared to one temperature)

3 - 3oz Filet $42.50

Classic Cut Steaks

7 Oz. Prime New York Strip $33

12 Oz. Angus Boneless Ribeye $39.90

36 Oz. Angus Porterhouse For 2 ( 4 Sides) $79.90

14 oz Prime New York Strip $47

Steak Toppings

Blue Cheese Butter | Peppercorn Crusted | Wild Mushroom Butter | Bearnaise Sauce | White Truffle Bearnaise | Jake's Steak Sauce | Maitre D' Butter | Blackened Rub

Each $2.50

Oscar Style Lump Crab, Asparagus And Bearnaise $15.50
Chilled Oysters on the 1/2 Shell
East Coast and West Coast
Cocktail Sauce & Mignonnette Sauce

$2.95 per piece (min 3) or $29.90 for twelve
Specialties
Red Wine Braised Beef Short Ribs

Port - Red wine Demi - Glace

$29.50

Jake's Burger 8 Oz.

Brisket - Short Rib - Sirloin Blend | Aged White Cheddar Cheese | Jake's Onion Rings | Special Sauce | LTP

$16

Wisconsin Maple Leaf Roasted Duck

Wild Rice | Poached Golden Raisins | Braised Red Cabbage | Orange-Gastrique Sauce

$29.50

14 Oz. Duroc Berkshire Pork Chop

Caramelized Honeycrisp Apples | Brandy

$30.50
Seafood
Roasted Market Fish - MP

Truffle Vinaigrette

Panko And Hazelnut Crusted Walleye

Lemon & Hazelnut Brown Butter Sauce

$29.90

Nueske's Bacon Wrapped Scallops

Viking Village Scallops | Crispy Kale | Saba

$35.50
Entrees served with:
Jake's Seasonal Salad Greens or Caesar or choice of two side dishes:
Baked Potato

Sour Cream With Chives

French Fries

Double Baked Potato

WI Cheddar | Nueske's Bacon

Baked Sweet Potato

Cinnamon Butter

Wild Rice

Poached Golden Raisins

Creamed Spinach

Toasted Herbed Bread Crumb

Crispy Brussels Sprouts

As Choice $2.90

a la carte $5.50

Roasted Asparagus

As Choice $3.90

a la carte $7.50

Jake's Mac N Cheese

As Choice $4.50

a la carte $6.50

Sauteed Mushrooms

As Choice $4

a la carte $7.90
The Perfect Manhattan
13.
Antica Sweet Vermouth | Martini Extra Dry | Vermouth | Jake's Brandied Cherries | Orange Twist

Choice Of:

Old Overholt

Makers Mark

Makers Mark

Knob Creek

Gentlemen Jack
Classic Cocktails
New Fashioned 12

Old Overholt | Antica Sweet Vermouth | Blis "Bourbon Barrel" | Aged Maple Syrup | Bitter Truth Orange Bitters | Peychauds Bitters

Apple Martini 11

Smirnoff Vodka | berentzen Apple Schnapps Pressed

Aviation 11

Tanqueray London Dry Gin | Luxardo Maraschino Cherry Liqueur | Benoit Serres Creme De Violette | Fresh Lemon Juice | Lemon Zest

Dark and Stormy 11

Goslings Black Seal Rum | Ginger Beer | Fresh Lime Juice

Bacardi Cocktail 11

Bacardi Superior Rum | Grenadine | Fresh Lemon Juice | Maraschino Cherry

Jake's Mint Julep 11

Old Overholt | Lemon Juice | Fresh mint

Pimms Cup 11

Pimms Cup | Fresh Lemon Juice | Simple Syrup | Cucumbers

Side Car 14

Courvoisier VS | Cointreau | Fresh Lime Juice
Craft Draught Beer
Jake's Bulldog "Klisch" Pilsner

14 oz. $6

23 oz. $9

Diablo Belgo "Cellar Series"

Ale Asylum

8 oz. $8

Sofie Farmhouse Ale

Goose Island

14 oz. $9

Hoppy Blonde Ale

Sofie

14 oz. $9

Oberon

Bell's Brewery

14 oz. $7

23 oz $10

MKE IPA

Milwaukee Brewing Company

14 oz. $7

23 oz. $10

Schlitz

Pabst Brewing Co

12 oz. $4

23 oz. $7

Weihenstephan

Hefe Weiss Germany

23 oz. $10
Bottle Beer
Crispin Cider Brut

$7

Stella Artois

O'mission IPA (GF)

$5

O'mission IPA (GF)

Widmer Brothers Brewing

$5

riverwest stein

$5

sierra nevada pale ale

$5

clausthaler na

$5

bud light

$4.50

miller lite

$4.50

miller high life

$4.50
Vodka
Hiball | Cocktail
Belvedere

$11.50

$14

Central Standard

$10.75

$8.75

Chopin

$11.50

$14.50

Grey Goose

$11

$14

Grey Goose Citron

$11

$14

Grey Goose Orange

$11

$14

Ketel One

$10

$13

Ketel One Citron

$10

$13

Ketel One Oranje

$10

$13

Stolichnaya

$10

$13

Tito's

$8.75

$10.75
Gin
Hiball | Cocktail
Beefeater

$8.75

$11

Bombay

$9

$11.50

Bombay Sapphire

$12.75

$10

Boodles

$10.50

$12.75

Haymann's Old Tom

$9

$11.50

Hendrick's

$12.50

$14.50

Plymouth

$10

$12.50

Tanqueray

$10.50

$12.75

Tanqueray 10

$11

$13.50

Tanqueray Old Tom

$11

$13
Rum
Hiball | Cocktail
Bacardi

$10

$8

Bacardi Limon

$8

$10

Captain Morgan

$7.75

$9.50

Goslings

$8.50

$10.50

Malibu

$7.75

$9.50

Mount Gay

$8.50

$10.50

Myer's

$8

$10
Brandy | Cognac
Hiball | Cocktail
Korbel

$8

$10

Courvoisier V.S.

$14

$16

Daron Calvados

$14

$16

Remy Martin VSOP

$20

$22

Hennessy

$22

$24
Bourbon
Hiball | Cocktail
Angel's Envy

$12

$13.50

Jim Beam

$8

$9

Knob Creek

$10.50

$11.50

Maker's Mark

$10

$11.50

Noahs Mill

$15

$13.50

Woodford Reserve

$12

$13.50
Whiskey
Hiball | Cocktail
Canadian Club

$8

$10

Crown Royal

$10

$12

Death's Door

$10.50

$11.50

Early Times

$8

$9

Jack Daniels

$8.75

$10.75

Gentlemen Jack

$10

$11.50

Jameson

$8.85

$11

Old Overholt

$9

$8

Red Breast

$12.50

$14

Rittenhouse

$10

$11.50

Southern Comfort

$10

$8

Seagram's 7

$7.95

$8.95

Seagram's V.O.

$7.95

$8.95

Templeton Rye

$12

$13.50

Tullamore Dew

$8.85

$11

Whistle Pig

$17

$19.50
Scotch
Hiball | Cocktail
Balvenie 12 yr.

$12.50

$14

Balvenie 14 yr.

$14

$16

Chivas Regal 12 yr

$10.75

$11.50

Dewars

$8.95

$10

Dewars Honey

$8.95

$10

Dimple Pinch

$13.50

$14.50

Glenfiddich 12 yr.

$16

$12.25

Glenlivet 12 yr.

$12.75

$14.75

Glenmorangie 10 yr.

$13.50

$15

Glenmorangie 18 yr

$17.50

$19.50

J&B

$9

$10

J. Walker Black

$10.50

$11

J. Walker Red

$10

$10.50

Lagavulin 16 yr.

$17

$19.50

Macallan 12 yr.

$14

$20

Oban 14 yr.

$14

$20

Talisker 10 Yr.

$10.50

$11
Jake's Wine by the Barrel
Pinot Gris | Rainstorm

2018 Oregon

$9

Pinot Noir| Klee

2017 Willamette

$10

Grenache | Botijo Rojo

2016 Spain

$10
SPARKLING WINE & CHAMPAGNE
Dom Perignon Moet & Chandon

2004 & 2005 Reims France

$250

J. Lassalle "Premier Cru" Brut Rose

Champagne France

$115

Schramsberg -Blanc de Noirs-

2011 Napa Valley Ca

$77

Pol Roger

Blanc de Blanc

$125

G. Lorentz Cremant D'Alsace

France

$59

Veuve Clicquot Brut Champagne

Reims France

$100
SAUVIGNON BLANC
Rombauer

2016 Napa Valley

$74

Twomey

2017 Napa Valley

$60

Ferrari-Carano

2017 Sonoma

$59

Legeder

2018 Alto Adige

$36
PINOT GRIGIO
Cinque Stelle "C5"

2017 Central Coast

$37

Legeder

2018 Alto Adige

$36
CHARDONNAY
Jordan Vineyards

2016 Russian River Valley CA

$75

Ch. de Meursault "CDGC"

2016 Meursault

$250

Nickel & Nickel

2014 Santa Barbara

$99

Nielson by Byron

2015 Santa Barbara

$69

Decoy by Duckhorn

2016 Sonoma

$40

Lone Birch

2017 Yakima

$44

Wonderwall

2017 Edna Valley

$50

Shafer Vineyard "Red Shoulder Ranch"

2015 Napa Valley Carneros Ca

$110

Ultima Tulie

Bien Nacido

$81

Hubba "Mutha"

2018 Central Coast

$84

Stag's Leap Winery

2013 Napa Valley Ca

$74
REISLING
Weingut Robert Weil

2017 Rheingau

$39
ROSE
Le Galantin

2017 Vincault Bandol

$42

Goldeneye Pinot Noir Rose

2017 Anderson Valley

$45
PINOT NOIR
Ch. de Marsannay

2015 Bourgogne

$78

Ch. de Marsannay "LL"

2015 Marsannay

$164

Ch. de Marsannay

2016 Gevrey-Chambertin

$198

Adelsheim

2017 Willamette

$55

Amity

2016 Willamette

$67

Beckon Winery

2016 Central Coast

$59

Calera

2106 Central Coast

$69

Wonderwall

2017 Edna Valley

$50

Flowers

2016 Sonoma Coast

$105

Ritual

2016 Casa Blanca Valley

$59

Brewer Clifton

2014 St. Rita Hills

$119

Twomey

2015 Santa Maria Valley

$125

The Fableist

2017 Central Coast

$50
TEMPERNILLO
Cune Crianza

2015 Rioja

$45

Bodegas Muriel Gran Reserva

2006 Rioja

$65
GRENACHE
Tribute to Grace

2017 Santa Barbara

$72

Famille Perin

2012 Rhone

$45

Dom. Senechaux

2015 Chateaunuef-du-Pape

$110
MERLOT
Decoy by Duckhorn Vineyards

2016 Sonoma County CA

$48

Duckhorn Vineyards

2015 Napa Valley Ca

$115

Rutherford Hill

2015 Napa Valley

$79

Robert Mondavi

2016 Napa Valley

$49

Sterling

2016 Central Coast

$40

The Fableist

2018 Paso Robles

$50
SANGIOVESE
Monrosso

2016 Tuscany

$36

Ferrari-Carano Siena

2016 Sonoma

$69
MALBEC
Trivento "Amado Sur"

2016 Mendoza

$49
CABERNET FRANC
Camp

2017 Sonoma

$40

Couly Dutheil

2016 Chinon

$44
ZINFANDEL
Frog's Leap

2016 Napa Valley

$79

Girard Old Vine

2016 Napa Valley

$79

Neyers

2016 Lodi

$79
SIRAH, SHIRAZ, SYRAH
Chateau Montfaucon

2016 Cotes-du-Rhone

$40

Dusted Valley

2014 Columbia Valley

$69

Chapoutier

2016 Crozes-Hermitage

$69
CABERNET SAUVIGNON
Silver Totem

2015 Horse Heaven Hills

$55

The Fableist

2017 Paso Robles

$50

Trig Point

2016 Alexander Valley

$55

Neverland

2017 Santa Barbara

$50

Silver Oak

2014 Napa Valley

$229

Folkway "Revelator"

2016 Santa Barbara

$55

Chateau Blaignan

2015 Medoc

$50

Pascual Toso

2014 Argentina

$45
RESERVE COLLECTION
Corison

2015 Napa Valley

$215

Opus One

2014 Napa Valley

$415

Opus One

2015 Napa Valley

$400

Quintessa

2013 Rutherford

$245